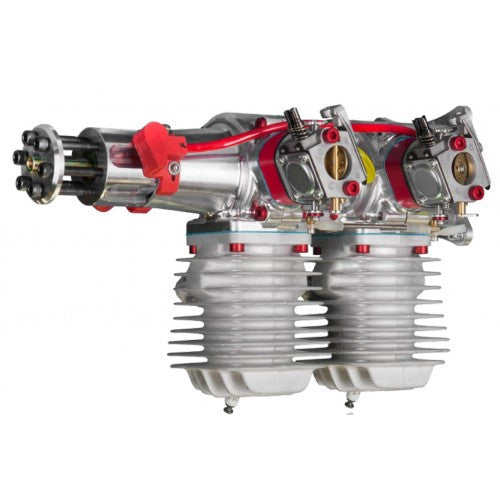 DA100I (Inline) ETA Feb '24
$ 1,695.00
At this time we are only offering standard ground shipping for website orders to the USA & Canada only.
All OTHER COUNTRIES please contact us for rates.
For faster USA shipping options, give us a call at 520-722-0607.
Based on the well proven DA100 opposed twin, the DA100 inline is the perfect 100cc engine for your 1/4 scale warbird.
Firing twice per revolution, the two smaller 50cc combustion cycles provide smoother running than a 100cc apposed twin firing once per revolution.
Super smooth running, incredible power curve, and awesome sound! 
All engines come with ignition, prop washer, and prop bolts. 
Engine wt:

6.9 lbs. (3.12 k) Ignition systems 7.5 oz.
2 Blade Props:  26x12, 27x10, 27x12, 28x10
3 Blade 24x12, 25x12
CNC Milled 7075 T-6 alloy crankcase
Dual 4 Petal reed valves
Dual Walbro carburetors
Typical RPM range: 1,000 to 6,800
Desert Aircraft auto advance electronic ignitions (4.8 or 6 volt input)
3 Year warranty, backed with world famous Desert Aircraft service, experience, and support.