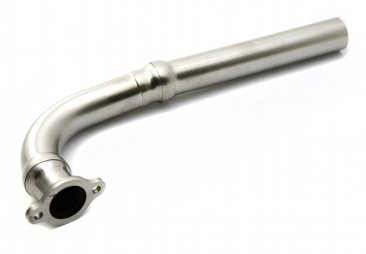 MTW Knuckle Header
$ 81.00
At this time we are only offering standard ground shipping for website orders to the USA & Canada only.
All OTHER COUNTRIES please contact us for rates.
For faster USA shipping options, give us a call at 520-722-0607.
The header has 2 knuckle/ball type joints that allow the header to be adjustable. Once shaped, the joints must be soldered using the high temp Silver Solder rod found on the Do-It-Yourself Header page. This solder works best with a MAPP Gas torch. (Lower temp solders will not work!) The joints must be soldered before running so that the joints are clean.
Sold as a single header.  2 cylinder engines will require 2 headers.
50 and 60cc headers require 25mm couplers and clamps
85cc headers require 28mm or the stepped coupler depending on exhaust
100 and 120cc headers require 25mm couplers and clamps
150 and 170cc engines require 28mm or stepped couplers and clamps