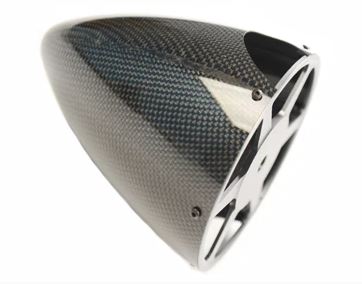 Falcon Spinners
$ 102.47
At this time we are only offering standard ground shipping for website orders to the USA & Canada only.
All OTHER COUNTRIES please contact us for rates.
For faster USA shipping options, give us a call at 520-722-0607.
Top quality Carbon Fiber Spinners. All spinners come with CNC machined lightened anodized back-plate.
Backplate and spinner are precision drilled for the holding screws. Lightweight and durable.
Falcon spinners must be used with Falcon backplates. They are not compatible with other brands. 

Desert Aircraft does not drill backplates. 
Estimated prop size:  
4" 2 Blade: 24x10
4" 3 Blade: 22x10
4.5" 2 Blade: 28x10
4.5" 3 Blade: 26x10
5" 2 Blade: 32x10
5" 3 Blade: 29x12
5.5" 2 Blade: 34x12
5.5" 3 Blade: 30x13