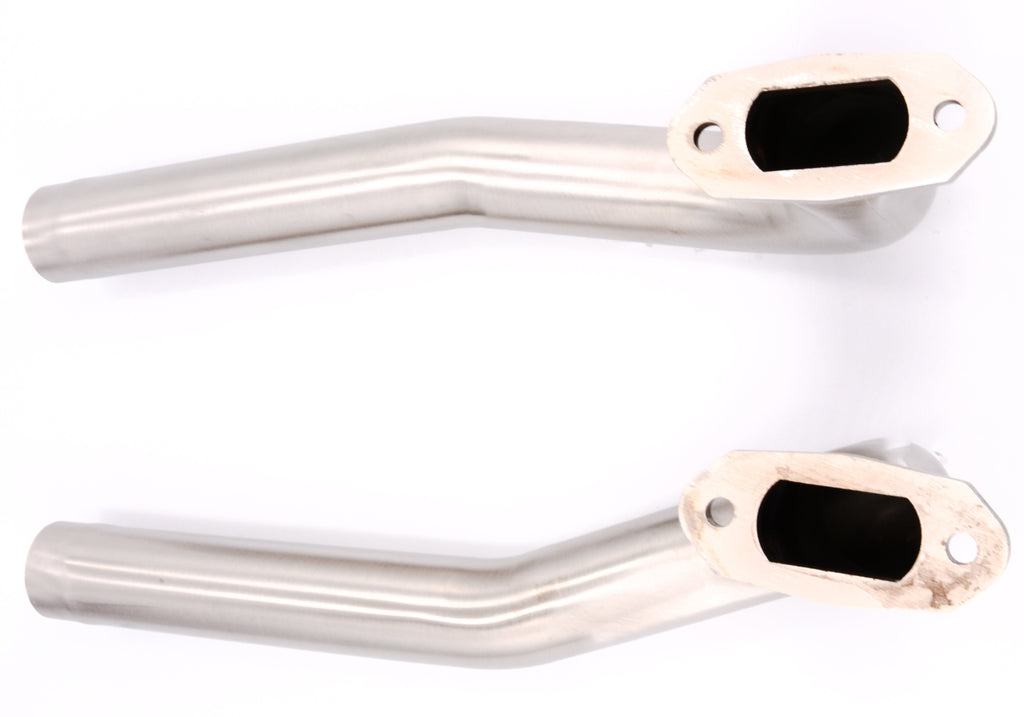 Solid Headers for Twin Cylinder
$ 162.00
At this time we are only offering standard ground shipping for website orders to the USA & Canada only.
All OTHER COUNTRIES please contact us for rates.
For faster USA shipping options, give us a call at 520-722-0607.
High quality stainless steel headers available in three different drops to fit most applications. To determine the drop you need, measure from the face of the of the exhaust port down to the center centerline of the inlet on your canister or tuned pipe. 
Note: 
70cc standard headers require 22mm couplers and clamps
70cc 2 into 1 headers require 28mm coupler and clamps
100 and 120cc headers require 25mm couplers and clamps
150 and 170cc engines require 28mm or stepped couplers and clamps
 Please note: 2 into 1 headers are only available for the DA70.
AJ Aircraft
Laser with DA70 use 90mm drop 2 into 1 header with MTW TD110H canister
Extreme Flight
 91" Extra with DA70 use 60mm drop 2 into 1 header with MTW TD110H canister.
Carden
124" Pro Extra 300  DA200 deep drop or 90mm drop for twin cylinder engines
Dalton Aviation
42% Extra 260 90mm drop, if using front exit KS cans use 70mm drop
Flex Innovations
Mamba  DA70,  2 into 1  40mm drop header, MTW TD110H
*Headers priced as pairs, with the exception of the DA70 2 into 1 headers. 
How to measure header drop. Looking for the "X" distance.